1xBet Bangladesh Privacy Policy Terms
At 1xBet Bangladesh we take great responsibility for our users' privacy, trying to ensure the best possible security for their data. When you set up an account and play games with us, you submit a lot of data – your IP Address, name, address and other personal information and we use all information security tools to ensure that this information stays confidential.
On this page we would like to introduce you to our current privacy policy.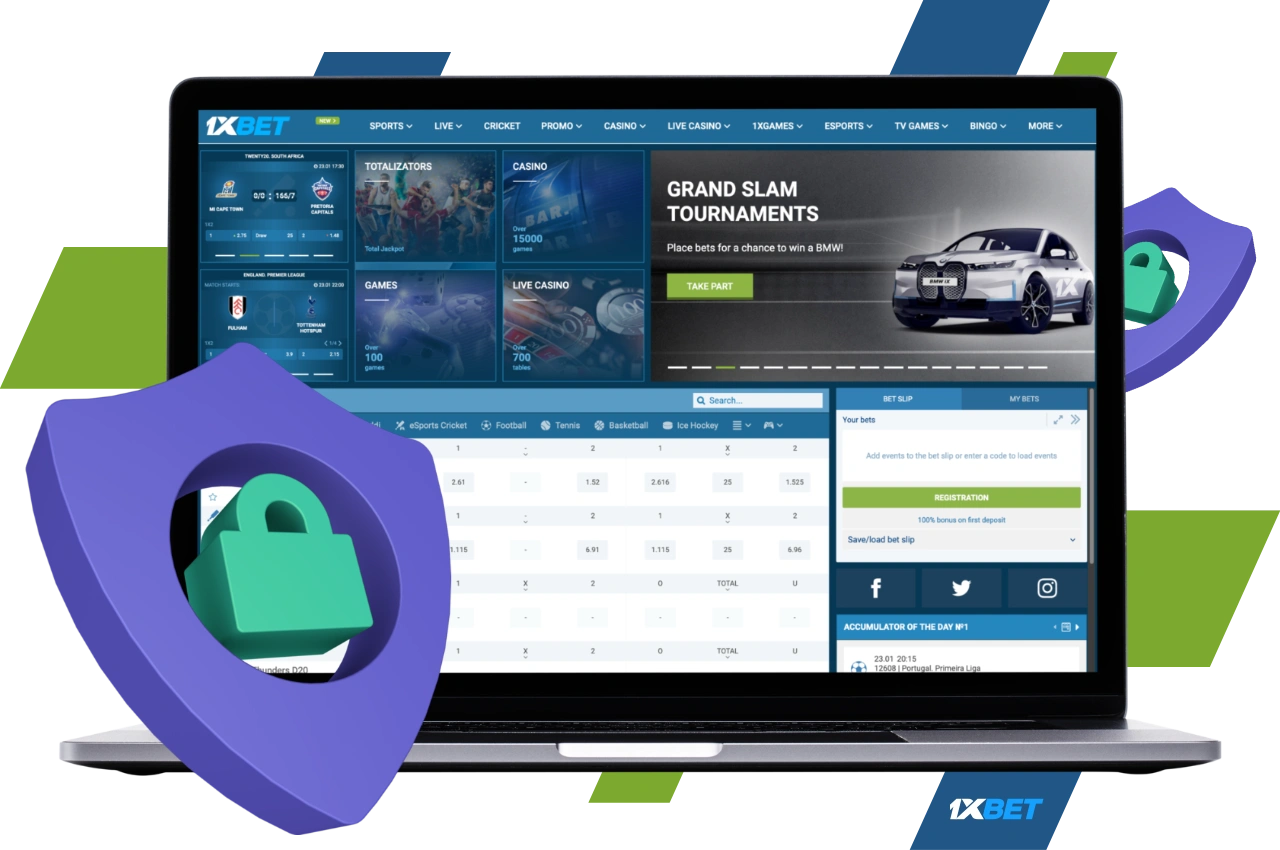 Privacy and Protection of User Data
We classify as personal any information from a user that allows them to be tracked as unique. When you visit 1xBet you send us Cookies, when you register you send us personal information, and when you verify, you send us information from your documents. All of this information is collected primarily to comply with the laws of Bangladesh, and as required by Curacao Gaming Authority regulatory license 1668/JAZ.
For our part, 1xBet Bangladesh site is committed to providing the highest level of information security and is directly responsible for the custody of users' confidential information.
To this end, we have implemented the following tools:
All information is stored on secure SSL encrypted servers;
All of our storage databases are protected by firewalls and the latest anti-virus tools;
Our security specialists are constantly upgrading our servers to exclude any possibility of intrusion by third parties;
All 1xBet specialists are responsible for non-compliance with users' privacy policy;
1xBet is not allowed to disclose your information to anyone, except as expressly requested by national authorities.
We ensure that all our partners adhere to our user privacy policy.
So when you bet or play casino games on 1xBet you can rest assured that we will do everything in our power to keep you safe and confidential.
Use of user data at 1xBet Bangladesh
The information provided by our users to the 1xBet servers is stored and processed for several reasons:
Legality. We abide by the legal laws of Bangladesh and as such we only allow adult users to play;
Anti-fraud policy. We need to know that you are a real person and your account is not being used for fraudulent purposes or money laundering;
License. All of our 1xBet products are subject to Curacao Gaming Authority license 1668/JAZ which has a number of processing and storage requirements.
Improved service quality.
Improving the quality of services. We analyze the interests of users in different regions in order to offer them the best quality online betting and casino services, as well as really useful and relevant bonuses;

Promotions. We track your activity on 1xBet and try to reward the most active players with nice bonuses in the form of free bets, free spins, deposit bonuses, so you get even more comfort from the game;

Transactions. We can't make deposits to your balance unless you enter your bank account or e-wallet details. Likewise we cannot send you any withdrawal money without knowing your details.
If you do not agree with any of the points in 1xBet current privacy policy, you can opt out at any time by contacting support.
You can also contact us at any time if you would like to know what information we keep and process about you and why we do it. You can also update your information at any time or check that our information about you is correct.